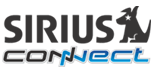 SCV1
SiriusConnect Backseat Audio Video Tuner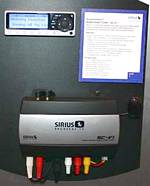 The Cartoon Network Mobile channel consists of short-form Cartoon Network programming ranging from 2 to 8 minutes each, and includes hit programs such as Foster's Home for Imaginary Friends and The Grim Adventures of Billy and Mandy, as well as classics including The Powerpuff Girls and Dexters Laboratory.
This mobile TV service is designed for the on-the-go mobile lifestyle and will be available 24/7.
With quality programming that kids love and parents trust, Disney Channel has something for everyone! Preschoolers happily play and learn with the imaginative shows on Playhouse Disney, plus Disney Channel offers great animated and live-action series and movies perfect for older kids and their families. On SIRIUS Backseat TV, Disney Channel will be available 24/7 and will include popular shows such as Hannah Montana, Cory in the House, The Suite Life of Zack & Cody, Mickey Mouse Clubhouse and My Friends Tigger & Pooh.
Nickelodeon offers an innovative and diverse blend of original series programming, including comedy, adventure, variety, Nicktoons original animation, and news and game shows created just for kids. On SIRIUS Backseat TV, the Nickelodeon service will be available 24/7 and will include popular shows such as SpongeBob SquarePants, Dora the Explorer and The Adventures of Jimmy Neutron, Boy Genius.
INCLUDES
• SCV1 audio/video tuner module
• Wired display control unit
• Wireless audio remote control
• Wireless video remote control
• Remote eye (for rear-seat video control)
• FM antenna interface
• Two mini magnetic antennas
• Audio/video cables

SIRIUS Satellite Radio entertainment
FEATURES
• Mulit-Zone operation
through the main audio system, SIRIUS Backseat TV for the rear passengers
• Display control unit mounts up front and can operate either the audio functions or the video functions
• Dedicated remote control for backseat passengers to change video channels
• Diversity antenna system for maximum signal reception
• Includes built-in FM modulator and antenna interface to easily connect to most car stereo systems
• Compatible with standard NTSC monitors
3 Channels of kids entertainment for your vehicle Cartoon Network, Nickelodeon and the Disney Channel for $6.95/month.
Add SIRIUS Backseat TV to your existing in-vehicle video system to enjoy hour & hours
of unique childrens content replacing the need for your overplayed DVD library.
Enjoy listening to SIRIUS Radio in the front seat while your children are simultaneously watching SIRIUS Backseat TV in the rear.
SCV1SiriusConnect™ Audio/Video Tuner The SCV1 is the first satellite tuner that not only recieves SIRIUS audio entertainment but also receives SIRIUS Backseat TV™ content.